Make your production a safe place for your workers and your machines. Take your working environment a big step closer to the smart factory.
Good training is half the battle.
And still, sometimes it is not enough. It often happens that you are in a hurry, distracted or tired and you no longer perceive everything of your surroundings. Especially areas that are not visible, like here. 
Dangerous situations can be avoided with our intelligent system, which detects such inconspicuous areas and warns the driver. 
Limited view and blind spots.
Most forklifts have very limited forward visibility – even when they are not loaded. A short moment is enough for a person to disappear in the driver's blind spot, resulting in a collision.
Here again, our 3D sensor can recognise the person in advance and calculate their trajectory. Therefore, these situations can also be easily avoided by warning the drivers.
Smooth process.
Good protection.
That's how it can go! The system detects all persons and forklifts and recognises the potential risk of a collision. For the person who is not visible to the forklift driver, the system alerts and warns the forklift to stop. After the person is no longer in the driving path, the system gives permission to continue driving.
So, what are your benefits?
No additional devices needed
Because our system works with optical signals, the employees do not need to wear any other devices. Therefore, every person, whether employee or postman, is recognised and protected.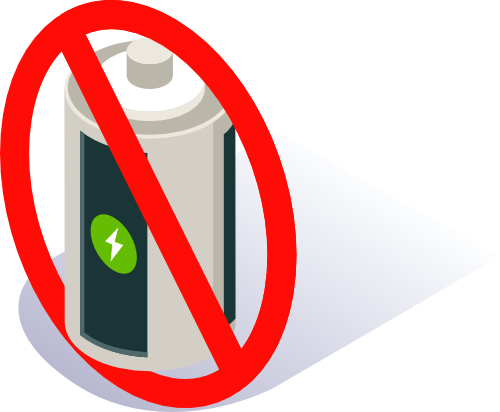 Therefore, there is no need for constant charging of the devices or mindful handling of the beacons to be protected. The employees can hence carry out their work without worries.
By analysing the anonymous data, you can identify potential for optimisation, such as walking or driving routes, and thus improve the processes.
As our system is versatile, we are looking forward to your enquiry and your challenges!